28
March 11, 2014 by Terry
  ( This post featured on Miss Mustard Seed's Furniture Feature Friday )
I bought a sofa off of craig's list this past fall…..it was super ugly but super, super cheap!!!  Like $25.00 cheap!!!  :0)  It was definitely worth the 45 minute drive to get it!
Here is what she looked like when I brought her home…
ORANGE!!!!????? REALLY???  WHO in the world thought that this fabric belonged on a pretty french style sofa??????
You poor, poor thing….. I'm crying for you!!
Pretty curvy back, seat, arms and legs…I like that it has four instead of the usual three even though there are only 3 seats…
Okay….lets get rid of that ugly dress!!  I started to rip it apart and soon realized that there were HUNDREDS of staples!  Whoever redid this sofa not only used way toooooo many staples, but they sewed every seam before stapling it on … they also did not remove the original staples, some were just hammered into the wood…
That black spot on the underside of the seat is actually cat hair!  Ewwwee!  Every little hole in the wood housed a staple….soooo many staples!!!
See that blue fabric?  One of the original fabrics that this sofa was covered in….I say "one" because this is the other layer of fabric that I found after the blue…
This poor little sofa!  Once stripped down to the bare cushions I realized that there would be no reusing anything from this sofa…the foam had decayed so badly that it turned to powder in my hands.  Very crumbly!  Soooooooo gross!!!!
So disgusting!  I had powder everywhere!
Did I mention the million staples???  My poor hands are sore with blisters, cuts and scrapes…
So now after 16 full hours of pulling staples and tearing fabric…4 band aids and some (okay A lot!) of whining…here she is almost completely naked!!! Now we are getting to the fun part…..Putting her back together!!
I am in love with Restoration Hardware's Deconstructed Furniture…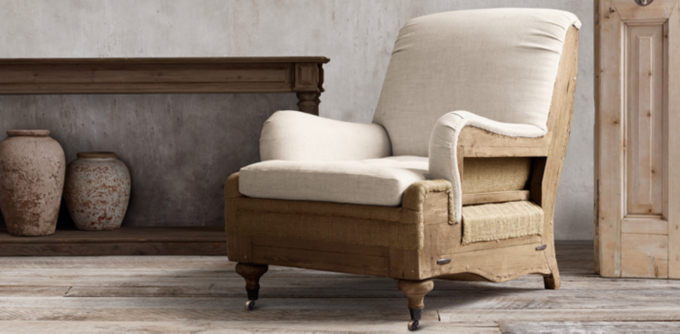 This is my vision for my little frenchy!!!!  I also have a wing back chair that I plan to match to the one above.  The settee above is about $2900.00 … mine will be less than $500.00.
Inspiration!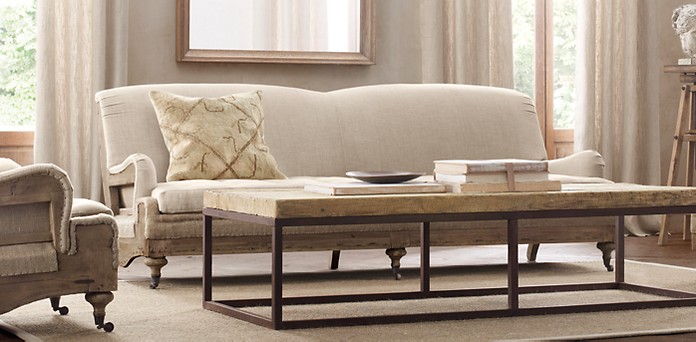 …. $3065.00…..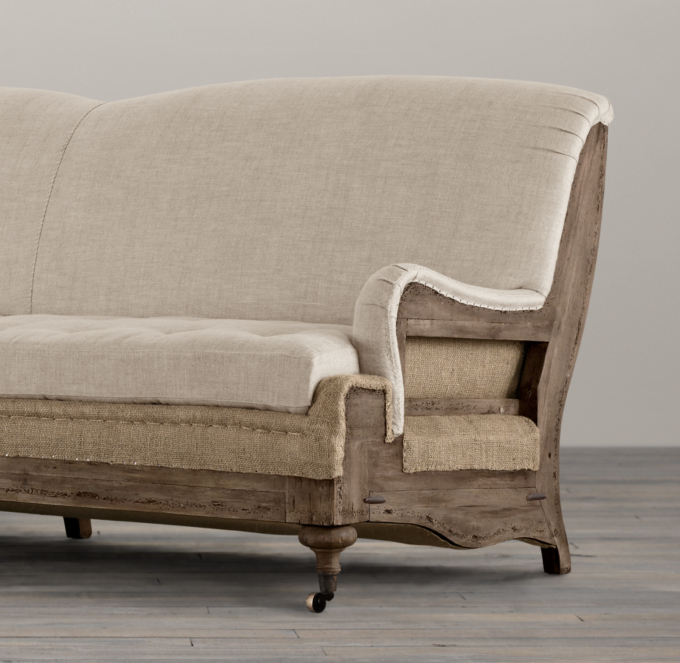 I even have the small metal castors to add to the sofa, they come off an antique table I found.  I can hardly wait to get at the wood and give it that sort of driftwood type finish…..
$3065.00 OR Under $500.00?  I'm hoping it looks like $3065.00 in the end!
It's going to be a couple more weeks before she's completed, I do have to show up for work this next week :0)  But stay tuned for updates on her progress!
Have a great week!
Smiles!
Terry
Linking up to A Stroll Thru Life: Inspire-me-Tuesday
Miss Mustard Seed's Furniture Friday
Pink When: DIY Sunday Showcase
Twigg Studio: Our Sunday Best Showcase
I Should Be Mopping The Floor: Inspiration Mondays
Too Much Time On My Hands: Get Schooled Saturdays
Stephanie Lynn's Sunday Showcase Party